We Drive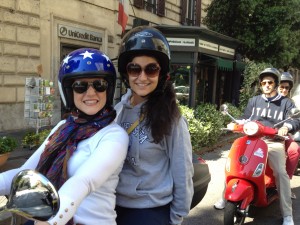 Don't have experience? Not to worry, you can hop on the back of our Vespa and be a passenger during the tour !!
MOTORINO – half day tour        
Your trusted scooter guide will meet you at your hotel, fit you for a helmet and then you will be Scootering Roma before you know it!! The best way to see Rome is from a bike, preferably a motorized one. Sit back and relax as your experienced Scooter Guide leads an exhilarating three or four-hour scooter tour of amazing Rome. Experience and see sites, neighborhoods & locations that are not available on foot. View the Colosseum & Ancient Roman Forum from the outside, view the Caracalla Baths, Circo Massimo, the Aventine Hill, visit the Garden of Oranges, the 'Gianicolo' and the Garibaldi Park with its magnificent views of beautiful Rome are some of the unique stops on this tour.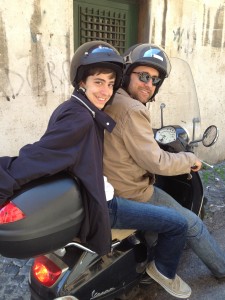 SCOOTERING – full day tour
A full day tour is the way to go if you have an entire day to explore the hundreds of sights and sounds in beautiful Rome. Your expert Scooter Guide will pick you up in the morning and whiz you off to make the first stop on the tour. Enjoy a caffé & cornetto while experiencing one of the most magnificent views of the Colosseum & Forum. Then we are off to scooter on the larger, broader streets while you are wowed by the Caracalla Baths, Circo Massimo, the Aventine Hill, the Garden of Oranges & the Testaccio neighborhood.
We will break for lunch at a local caffè, pizzeria or secret place in the Jewish Ghetto depending on your culinary interests. After lunch we set out again for Trastevere, one of the oldest Roman neighborhoods, visit the 'Gianicolo' and Garibaldi Park, continue along the Tiber River passing Castel' Sant'Angelo to St. Peter's Square. By now you have seen & experienced most of Rome so your expert guide will lead you on one last spin through the main drag to the epitome of all crazy motorized Roman places…Piazza Venezia where the ancient world unites with modern day society. You will enjoy it all from the back of your bike!! 
ROAMIN' HOLIDAY
Ride the most famous scooter in the world, a Vintage Vespa, on a four-hour tour of Rome. With 'authentic Roman' drivers you'll discover the secrets of the Eternal City. At an easy 30 km per hour (19 mph) pace, you will travel through Roman alleyways, immense squares and special coffee & gelato stops along the way.
Each expert guide is English speaking with years of professional experience. They will share their knowledge and history of Rome. Ten special routes are offered such as the Grand Tour of Rome, Along the Appian Way, The Roman Seaside or Angels & Demons.
Contact the Scooter Maven to plan your Roamin' Holiday !!